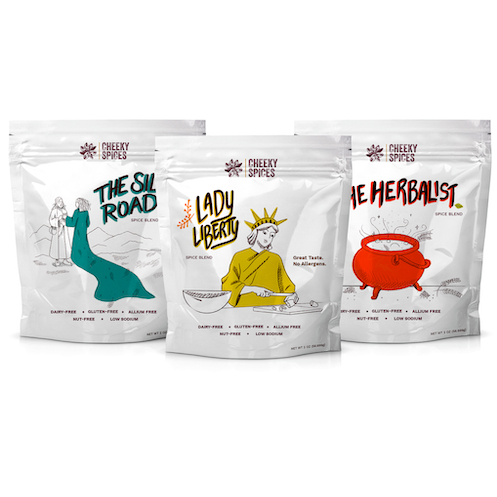 Cheeky Spices
Contact: Rita Shelley
Address: 417 Skydale Dr Ann Arbor, , 48105
Email Address: rita@cheekyspices.com
Phone: 734-239-3425
About Us
There is an unspoken rule that all health products must taste like cardboard, with that chalky, over-salted or over-sweetened after-taste. How tasty is that? Not tasty at all!

You know what is tasty? Using Cheeky Spices to create world's best dishes that don't hurt your stomach.

But who has the time to make healthy dinners every day?!

I sure don't!

That's why I invented Cheeky Spices to can delicious, healthy, easy dinners any day of the week in under 20 minutes.

I use these spice mixes practically every day:

Making a casserole? Great - use 1 tbsp of Cheeky Spices to 2 lbs of whatever is in the fridge to make a delicious meal.
Had something baked in mind? Awesome - Mix 1 tbsp of oil with 1 tbsp of LADY LIBERTY to 2 lb of protein and sprinkle THE HERBALIST on vegetables for a quick and easy chicken bake with roasted veggies.
Or maybe you are thinking about making BBQ ribs? Outstanding! Mix 1 tbsp of oil with 1 tbsp of THE SILK ROAD and cook it on low temp for about 45 min.
Just need a quick and easy meal with whatever is in the fridge? No problemo, my friend. Cheeky Spices goes with anything, tastes delicious and won't hurt your stomach.

Practices
FUN FOR YOUR MOUTH. EASY ON YOUR STOMACH.

Inspired by the best dinner recipes from across the world, our spice blends are great for easy dinners, dry-rubs, home-made Indian and Thai curries, BBQs and more.

Made with quality, non-GMO ingredients, Cheeky Spices are produced in an allergen-free facility without nuts, dairy, gluten or alliums to protect your digestive tract.

Learn more at www.cheekyspices.com